First and Foremost let me apologize for the delay of this review, I recently had a family member pass and really haven't been able to get it together to write this review but I've been checking in on our stats and we have been getting so much love and support from everyone so thank you.

Secondly, I also took the liberty of coming up with a solid system for every review. I'm adding a points system from 1 to 10 based on different categories for each shoe.

Seeing as how I have a full time job and not a lot of time, I tested the Trapasso's an hour everyday, for 5 days, for a month so you can be expecting 4 weeks of The "CONS Trapasso" review. Here's week 1 and 2.
Enjoy!

Week 1
Boardfeel:
The gum sole seems to have thicker padding concentrated in the foot bed section and heel section, making it really helpful for added comfort and impact support. It's not too thick and not to thin, they got it just right. (Photo Below)

Boardfeel Grading: 8
Week 2
Comfort/Support:
A huge feature and staple of the Cons brand is it's "gel-like" memory-foam. They've incorporated it into practically everyone of their shoes, including the Trapasso's. The memory-foam is in the tongue and collar area. Again, helping mold to your foot for added comfort and support. Along with this feature come the "PU Insole with Heel Shank" (Photo Below) for those unwanted heel bruises and a molded heel counter, keeping you foot aligned and in check.
Comfort/Support Grading: 8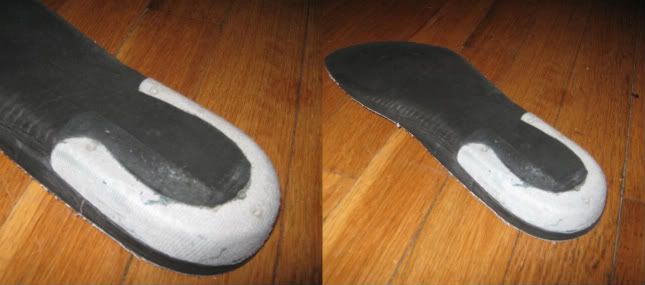 The next post will finish off the review of the "CONS Trapasso", it will include reviews for durability, grip and etc. I just need some time to determine how well this shoe ranks in those catagories but please check back for updates and new features on the site including interviews and video.