There is no way I could possibly promote the Westgates as well as the man himself. He's released the craziest footage as of yet, surpassing everyone's expectations since his Birdhouse days and he continues to shock all of us with his uncanny ability to do some of the scariest tricks in recent memory.
So why am I testing a shoe that will probably sell no matter what? It all started because of the speculation of how his shoe resembles a Half Cab, and be that as it may I felt the need to test this shoe and see if it could leave its legendary stamp for Emerica, as the Half Cab has for Vans. Originally I wanted to compare both of the shoes but the idea of skating and testing both of them meant pushing my deadline even further back. Here is your "Week with the Westgate" review, finally.
Basic Details:
The Westgate comes with the bells and whistles Emerica promises with most of there shoes:
Thinly padded canvas tongue and suede all around

Mid top design and a cushioned collar around the ankle

Narrow toe piece with a layered triple stitched toe cap

STI foam lite 1 footbed

Double wrapped vulcanized construction

400 NBS natural gum rubber outsole
Sizing:
I didn't find any open spaces or empty gaps in the shoe to complain about, making
the Emerica Westgate's fit, true to size. Normally, I've always found something to complain about in regards to the fitting proportion of most shoes. There was no tightness around the curve surrounding the pinky area, where most of the abrasion for skating takes place. The only area that there was any significant signs of tightness was around the heel/ankle area, which is most definitely reassuring more than anything. I found the length and wid
th of the shoe accommodating
for a person with wider feet, such as myself.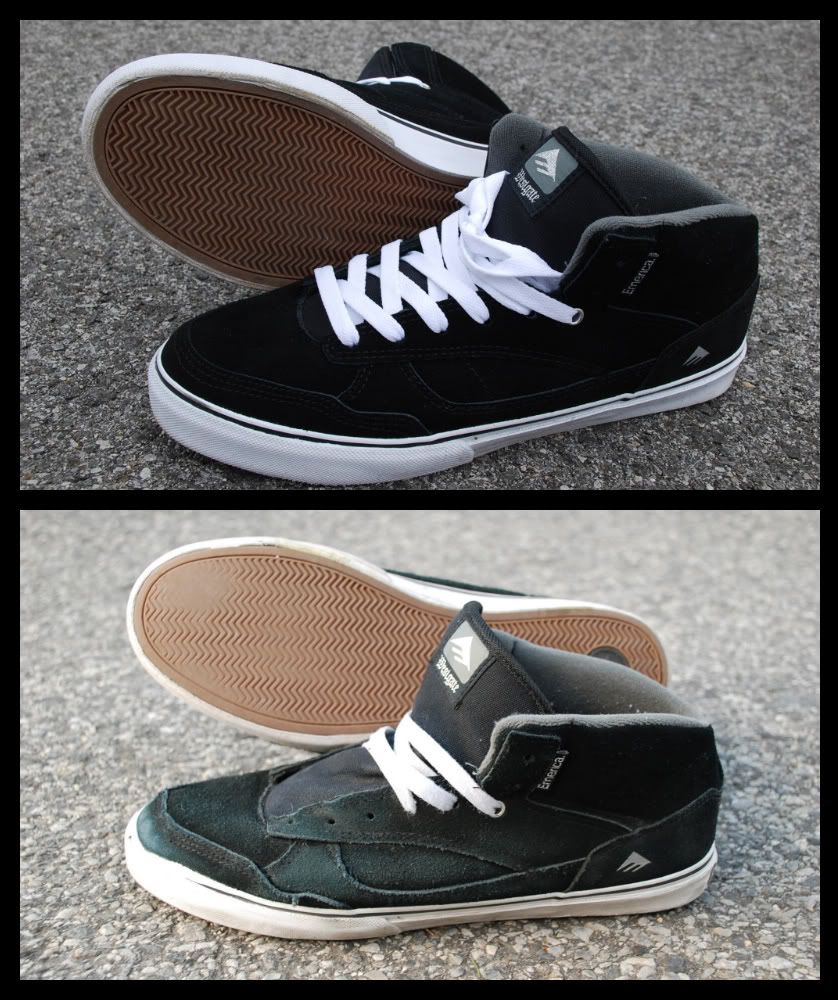 Day 1 to 7 of the "Emerica Westgates" overall performance.
Comfort, Cushion and Support:
The Emerica Westgate covered all three of these categories successfully. This is surprising considering the lack of support in most shoes today. More companies seem to generate sales from their younger demographics fascination for boardfeel and poor construction. The Westgate covers both ends of this argument providing great boardfeel and superior protection. The comfort itself is enough reason to buy this shoe. If you still aren't sold on the idea of owning a pair of Westgates on this idea alone, think about the Ortholite insole. It isn't some phony play on memory foam or anything like that. It's the same insole featured in the VANS AV6; so if you owned a pair of those and instantly became a fan then this shoe is next on your list.
If your unfamiliar with the Ortholite technology, it's a new brand of insole technology that's coming into play. The guarantee from Ortholite is that it wicks away moisture to eliminate odor and fungus to save the idea of still getting her into bed even after you've taken off your shoes. It also has long lasting cushioning and a solid amount of air flow. What I enjoy most about this new technology is that the insole forms to your feet every time, no bullshit. You can actually feel your foot sink into the insole. Ortholite insoles don't have much arch support, if that's what you need, but otherwise it does an exceptional job for a stock insole.
Cushioning around the ankle and heel will keep your foot in place for uninterrupted skating and moderate protection at all times. The Westgate seems to pull off the idea of locking in your foot instantly without the bother of having to tighten the laces anymore than you want to. They accomplish this feat without having centering tongue straps like most skate shoes. Structural padding is the reason behind the shoes natural ability to keep your foot safe. The craftsmanship and stitching around the sidewalls and ankle area reinforces the rest of the shoe and permits the shoe to properly lock your foot into place every time. Basically, the whole "Half Cab" design actually threads the rest of this shoe together for protection purposes. Trust me, this isn't just an interesting (boring) theory, just try them on for yourself and you'll know what I'm talking about.
Comfort, Cushion and Support grading:
10
Boardfeel and Grip:
The outsole is a staple from the STI lab and most of us are familiar with the herring bone tread pattern. For those who have skated the outsole, you know how great it feels but the only conflict of skating any STI shoes (eS, Emerica and Etnies) is that they burn out too fast. When taking photos for the 6th and 7th day of testing, I couldn't believe how much damage the outsole had taken. Granted, I have recently been shimmying more while preparing for tricks, but even so I'd love to see STI make the tread patterns deeper for added longevity. The shimmying isn't due to the lack of boardfeel, in fact the boardfeel is what you'd hope for with any vulcanized shoe. Even for a bigger shoe, the boardfeel is optimal and provides the protection from a mid-top shoe with the boardfeel of a low profile shoe. I took a close photo (below) in hopes of finding that the insole tracks were made deeper, but after testing I found that this wasn't true.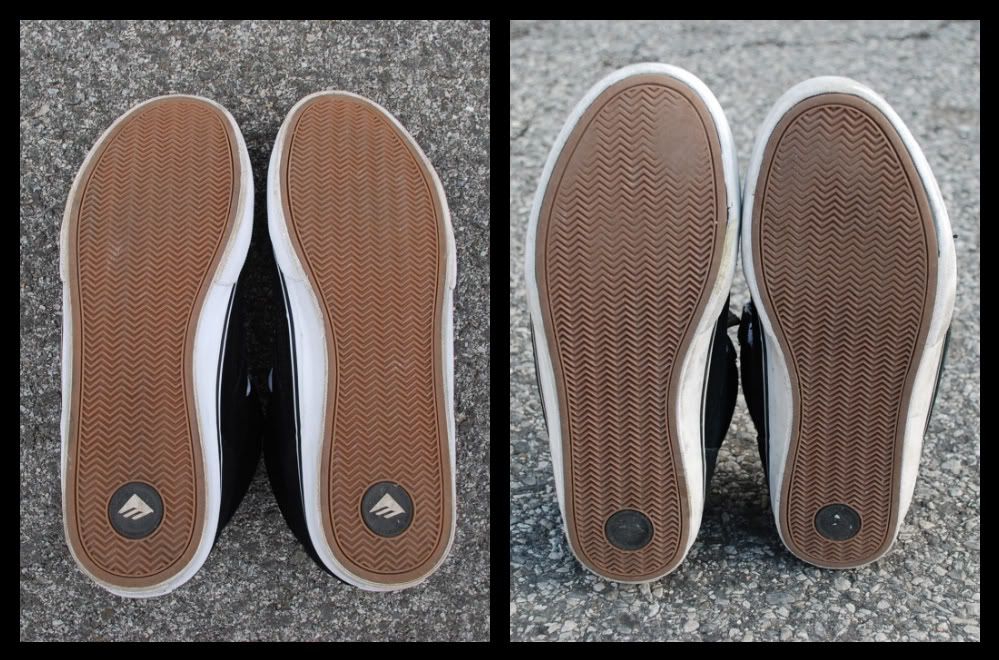 Day 1 to 7 of the outsole
Suede isn't the standard in skateboarding for no reason; it's ability to flex and break-in for instant skating is the reason we all love, use and abuse it. Unlike the eS First Blood, the Emerica Westgate doesn't have a rubber insert in the toe cap for added durability. This lack of rubber adds exceptional boardfeel on the sidewalls and toe box of the shoe. After all, with the added triple stitched fabric covering the toe piece, it'd be unnecessary to have any other technology added to this already great shoe. Anything else would just weigh and water down it's performance.
Boardfeel grading: 8
Grip grading: 7
Durability:
You can skate the Westgates right out the box. Initially, there will be a feeling of skating a bulky shoe but after kicking around a couple of blocks, it'll all go away. Normally, I really hate doing flip tricks during the first day of testing. It's shown that the shoe is more vulnerable to gouging. This explains why the 1st day with the Westgates looks like I didn't even skate them, I just had a simple manny session and occasionally threw a couple of backside 180's and nollie tricks here and there. Towards the end of testing on the 1st day I decided to throw in a couple of kickflips and to my surprise the shoe held up quite well. It didn't "drag" up the grip tape but smoothly grazed off the board helping me get over the phobia of flip tricks on the 1st day. The rubber on the sole is very smooth and rubs away slowly rather than coming off in bits and pieces.
I can't fathom the idea of blowing out the Westgates. It basically has three layers (photo below) of suede to get through. It's durability grading truly shines after 3 more weeks of skating them. If you've slipped these on your feet, then you're some of the many who know what I'm talking about.
After 7 hours of skating.
The suede will ultimately outperform the outsole because of it's layer design but the sole does put up a mentionable fight. It also has a 3 layer feature and after the week was done, I still didn't fully get through the 1st layer.
Durability: 9
Summary:
As I said in the beginning of this review, I couldn't sell this shoe any better than Westgate. I believe this shoe has a lot of standards and expectations to live up to considering Brandon's great year. Plain and simple, I had a great time skating the Emerica Westgate. I know that it's going leave as much as a significant mark for the Emerica brand as the Half Cab has done for Vans and that's nothing to look down on. For a hard working skater of his caliber, who's paid his dues, I can only expect people to skate the Westgates because of it's endless protection and great look.
A big thank you goes out to Vanessa, Joe & Fred at Emerica for providing us with a pair of Westgates to review - THANK YOU!