I was recently talking to someone who's seen the real in's and out's of the industry and was told "the only two places that matter in skateboarding are NY and Cali." It was an interesting point, sure there are the many talented skaters out of Arizona and Philly amoungst other places but It's true. NY and CA are the quintessential locations for skaters to try to make it. Living in NY has it's pros and cons as does Cali but where we have a stronger reputation for skating the harder, shittiers spots, we also have the negative outcome of the strong winters. I've always been fine with the idea of skating in the winter but now that reviewing shoes is in the mix it's harder and harder to do then lets say if I lived in Cali.....

Now, am I moving to Cali? No. I don't make nearly enough money as this guy (or this guy) to do that.

Having a strong following in NY, Keith Hufnagel has spent the majority of his skating career in CA, I guess this is what my friend meant. Huf happens to be the perfect example of all of this. Sure there are tons of NY heads who've risked it all in CA but Huf has actually made a brand steming from CA with NY roots.
The Huf 1 review was done for 5 weeks and is being reviewed using a Bi weekly format. This shoe was skated depending on weather conditions but overall was tested using a 1 hour duration for 4-5 days and weekends sessions anywhere from 2-3 hours for 5 weeks.
Sizing, Style and Support:
The HUF 1 is stylish enough to be worn/marketed as a streetwear brand but has enough skater influenced and credibility backing it to be skated like any other shoe. This shoe is true to size so no need to rack your brain wondering what size to get and despite its simple looking demenor, the HUF 1 comes with some high tech support features.
The HUF 1 ankle support starts with premium grain leather and is strengthen all around the ankle and heel area with a hard plastic lining inside, giving the HUF 1 enough support as a skate shoe yet enough style as a street/lifestyle sneaker. As a matter of fact I had someone literally come up to me, bend down and say
"yooooooooo those are hot, what are those?"
so with that alone these are street solidified and certified. The premium leather throughout the outer heel area complements the hightop style for minimal risks of rolled ankles and makes this shoe look
damn good
. An almost unnoticeable feature of this shoe is the mesh lining on the inside of the shoe. It's lined throughout the tongue and goes from the top of the heel all the way to the bottom, justifing all of the breathability needed with no slippage. Another reason I'm running with this whole streetwear thing is the small design detail this shoe has compared to most nowadays. In regards to style I've always been under the impression that less is more which is why I'll never understand
these
. The fact that the HUF 1 has small yet simple patches sowed all around really catches a buyers eye.
(photo below)
Sizing, Style and Support Grading: 10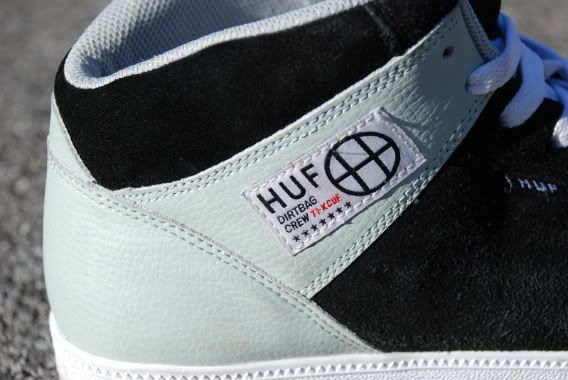 Comfort and Cushion:
The HUF 1 took sometime to break in, approximatley 3-5 days. Even so it didn't take long till I got use to them. Truthfully, rather than skating to break them in I just walked to and from work because I liked the way they look. Cushion-wise, the HUF 1 has a intergrated rubber heel collar insole wrapping all the way around the heel and ending towards the arch of your foot. The insole itself is a foam material with medium thickness underneath the heel for a minimal loss of boardfeel
(photo below)
. With a cupsole designed shoe, the footbed of the insole progressivly gets thinner and has grooves cut into it for evenmore boardfeel. The tongue of the shoe is filled with a thin amount of cushion, just enough to prevent any damage to the ankle.
Comfort and Cushion Grading: 9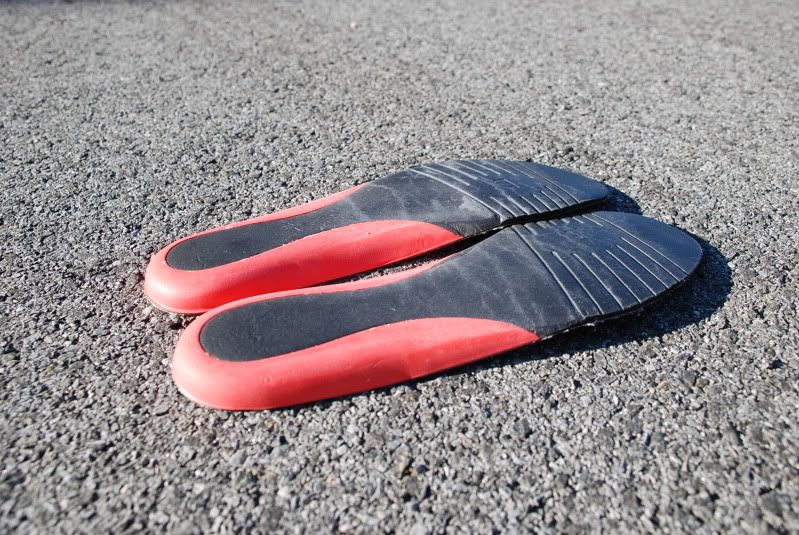 Boardfeel and Grip:
Due to the fact that breaking in any shoe is such a bitch, the HUF 1 is no different. The boardfeel isn't going to be there at first. Even so you should embrace hitting on as many girls as possible wearing these shoes. Seriously though it's nothing, after 3 to 5 days you'll feel a significant difference in skating them. I really enjoyed skating this shoe specifically to test the pateneted "H" sole. Its a play on a classic gum sole and it works well. The main factor in testing the sole was the red "H" section of the sole. It seems to be made of a harder rubber than the rest of the sole and grips much better when scratching my thumb against both rubber materials. The red H seems to stick more but wears aways with the same duration as the regular gum sole.
Boardfeel Grading: 8
Grip Grading: 7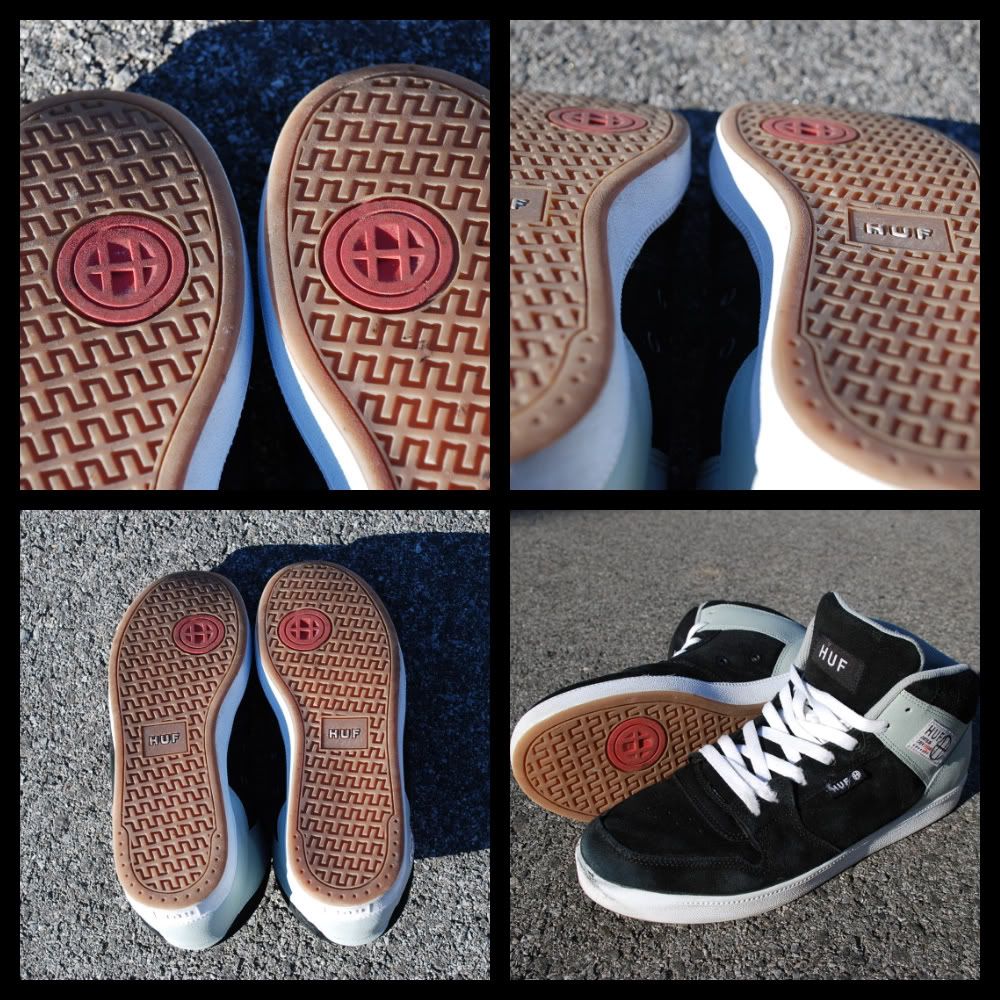 Durability:
A rougher selection of suede is surrounded all around the shoe and is amazing. No, that is not an overstatement, this is seriously amazing. Most shoes start to tear between the 3rd and 4th week of testing. This suede on the other hand is continuously
reinforced and rather than ripping, sheds into another layer of suede, which becomes hairy/rough and then sheds slowly.
I can really appreciate the fact that an old school design with some new suede technology can still top any synthetic shoe out there
(atleast I think so)
. A triple stitched suede lining fronts this hightop shoe and has some minimal lace protection. The lace protection, if any is irrelevant but a relief to have even though I didn't have to change laces one. The outsole is made from a fine and smooth rubber that sheds away nicely, I don't have any gouges in the rubber, no foreseen foldage in the suede or signs of the glue wearing off.
Durability Grading
Suede and Outsole: 10
Gumsole: 8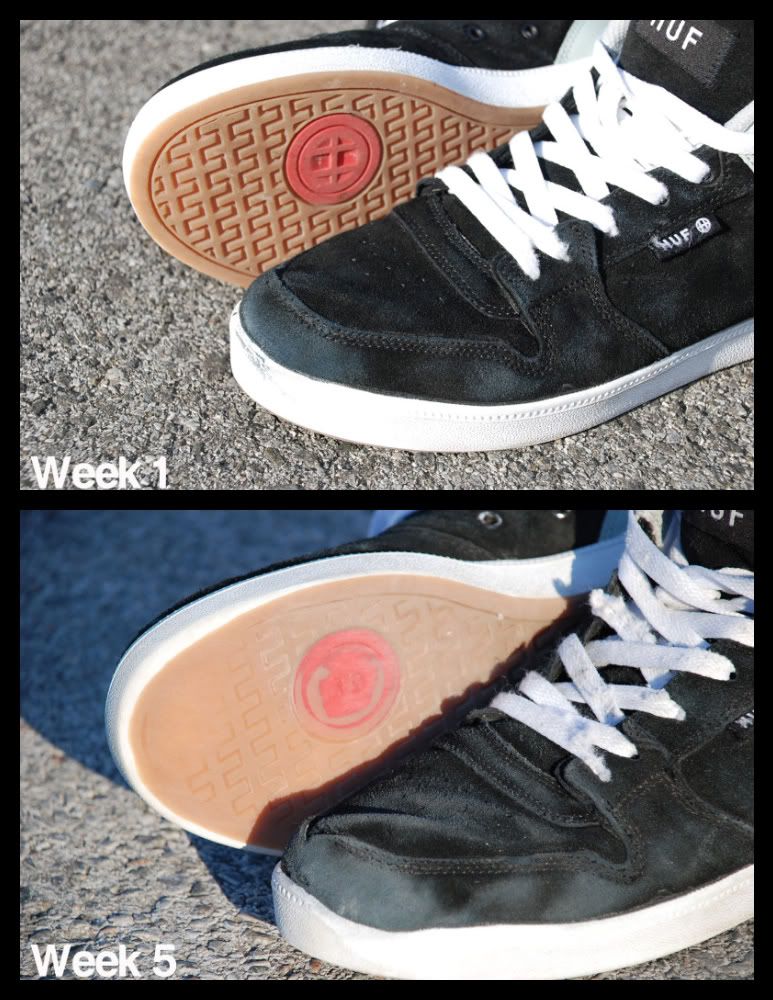 Summary:
All together, HUF is making a solid and bold statement with his brand of shoes. In a time where most board companies are trying to become
cemented
shoe brands, I'm glad to see HUF succeeding in all of its endeavors. As far as the quality of his shoes go, he seems to have a perfect blueprint and plan on how to executed a well lead footwear brand. Here in NY, the HUF brand isn't just at any skateshop. If you enjoyed the review enough to want to try them yourself pick em' up where I got them.
BELIEF Skateshop and Boutique
29-20B 23rd Avenue
Queens, NY 11105
(718) 721-4444
A special shout out to all the
Belief boys
, I know they're going big in Cali.