The Agenda trade show continues to better with age and this year was no different. All of you favorite brands were there like Huf, Dvs, Gravis and more. Ripped Laces covered the latest and greatest in spring and fall product to drop in 2011.
The very first spot I hit up was the Circa booth. They've been under the radar for a while but have been brewing up a killer team with their latest additions of Gallant, Gravette and Nuge - and you can't forget Guzman. I spoke to the rep and he had nothing but good things to tell me about the future of Circa. Currently, Circa has been hyping up the "Lifestyle" collection. This Circa boot is one of the many things you can look forward to from Circa's Lifestyle collection, currently it's still under wraps so you'll have to wait a bit longer to see what else the Lifestyle collection has to offer.
(photo below)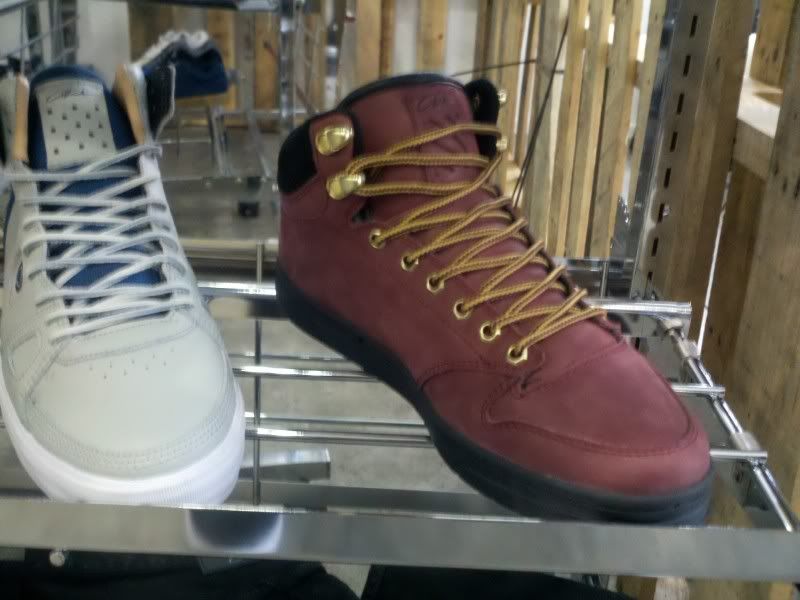 More importantly, their upcoming skate collection and pro models look promising. With their absence from the skate game for quite some time
(product-wise)
, it's reassuring knowing that Circa hasn't been sleeping on the skate game at all. Circa reveals new models from Gravette, Gallant and Nuge
.
All of them coming with some strong features and great designs.
(photos below)
Gravette Model with multiple colorways
.
(Sorry for the blur, shitty phone)
Next in the Circa catalog are the Nuge and Gallant pro models.
The Nuge pro shoe comes with what most skaters have been getting use to seeing more and more lately. A classic vulcanized one piece toe cap, not to rounded and not too narrow, for automatic boardfeel and ready to go ripping. I, personally, am looking forward to the "Gallant" pro model. It features a great classic cupsole look with some vulcanized technology backing it. I can't wait to test these.
Check back tomorrow for the next installment from Agenda. I still have tons to show you from DVS, Lakai and more.
In the meanwhile,
heres the song of the day
and here are
some clips of the day.
Lizard got served, Dickson is a beast and Macba got a fork stuck in it.